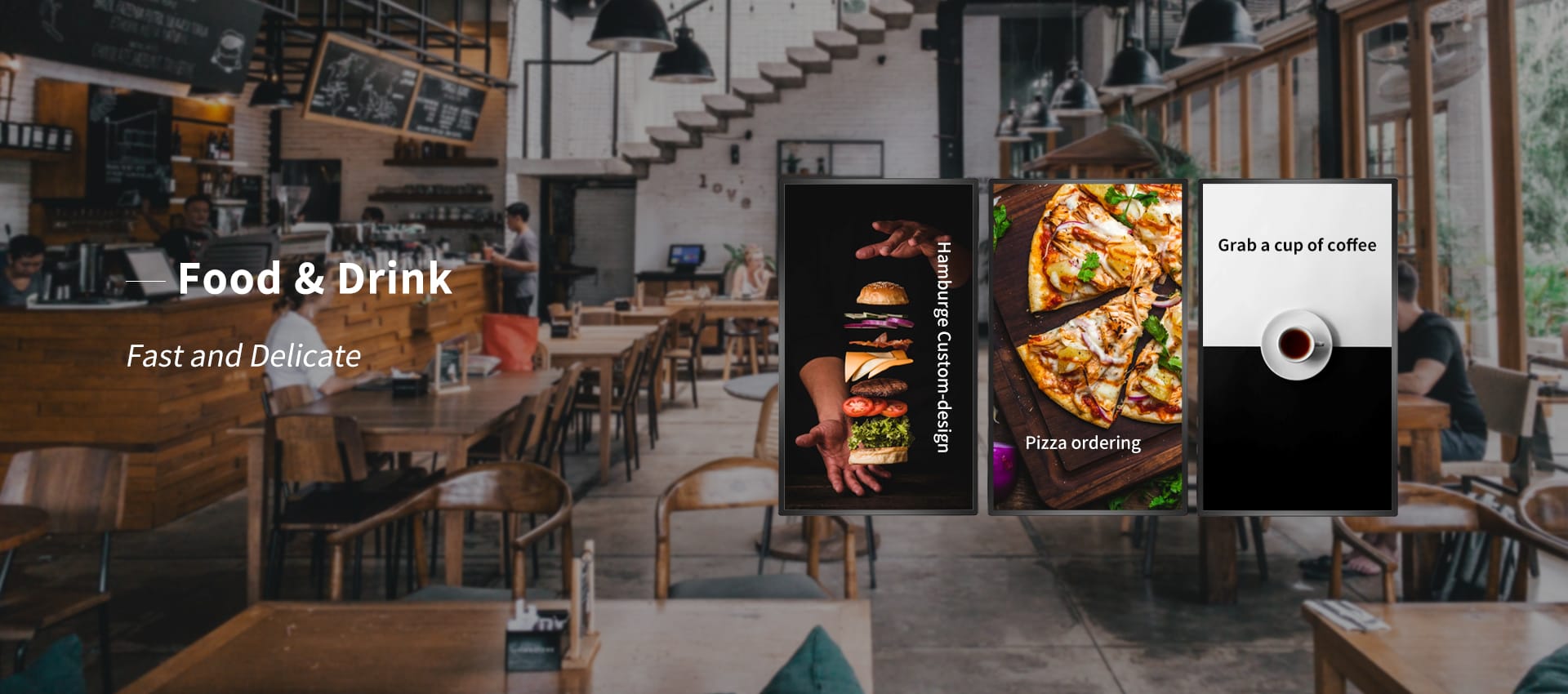 How to make the food hard to resist is the No.1 task in the fast food industry.
Interactive signage is replacing average digital menu boards and printed menus. The smart interactive menu boards work by being smart enough to communicate and serve the customers, not just grabbing the customer's attention or informing them by the screen. 
One huge benefit of a touch screen is, that it allows you to add interaction to your menu; making your content and poster endless and exciting. Always offers to read more, explore more and learn more about your food and drinks: material, taste and favor, way of cooking…
Install a wall mount touch screen signage outside your restaurant is a productive way to attract bypass visitors with the vivid content and LCD screen.55 inch, 43 inch and 32 inch is the best solution to attract 24/7
Extending your limit of business Hours is just one of many reasons why using the interactive screen, is not limited by 8hrs or any shifts, or night. The interactive screen is working and serving your business 24/7, with very low engineering and maintenance costs. Plus, the screen is more visible and plays like LED light signage to attract customers at midnight from a far distance.
Waiting is a big headache for most business owners, while a smart touch screen or self service kiosk with a touch screen is the popular solution to offer fast, simple service still at a low cost compared to hiring extra hands, or in the end, you may go without the need for additional cashier or service staff.
Horsent Touchscreen understands that the food business is all about details: From interactive AD to attract more flow, self-order including details
like how hot the coffee they prefer, yes or no mushrooms and extra cheese or less cheese, customer payment, customer feedback and promotion.
And even more for the kitchen: order process, delivery status, material status…
The Horsent touchscreen is a modular design that can house a variety of payment device options.
With our modular design, installation and maintenance becomes easy and convenient for the business owners
All about business owners: Fast, efficient, accurate, and beautiful.





Improve the connection
with visitors